P17 - Tilly x Count DOB 3/19/22 Ready- May 14th.
Chocolate & white
(F4)
$400

(has *B)
FULL SIBLING TO Flower
Tilly (Mosaic's Chantilly Lace 3*P) has been a HUGE asset to my herd- placing well in virtual and live show, obtaining her milk star as a first freshener, getting on MDGA's top 10 placings at #2 in Butterfat % (beat out by her dam who was #1). Her dam, Monsoon, was on the 2020 305-day milk test top ten list in 2 categories- #1 in butterfat % and #2 in butterfat weight!! Monsoon's dam was on the 2018 top 5 list for being #3 in Butterfat %. Her sire Hawkeye's dam "Green Gables Dolly 3*P" was #5 on 2018 MDGA's 305-day test list for BF lbs. Both of Tilly's retained daughters have done well at virtual shows and the older one at live shows as well. Her sire has several Virtual show finished champions in his pedigree: His sire "G.G. Dash of Freedom *B" was sired by "VMCH Green Gables BF Spice of Freedom +*B" with "VMCH Beloved Freedom +B" as his sire. Hawkeye's dam's dam was "VMCH Echo Hill's Molly O'Malley 2*P" and her dam was "FMCH Hidden Creek's Patches 1*P"
The Count (Breezy Shores Farm Count Chocula *B) has good milk lines, his dam has her 3*P and an udder with lovely attachments & great teat placement. Both of his grand dams have their 2*P, and his grand-dam and great grand dams also appear to have good udders.
Count hasn't been to a live show, nor have I put my boys in Virtual shows. I feel he has good shoulders, pretty level topline, decent width of body, and nice ears. I really liked the conformation of his first batch of kids and his retained daughter took both her classes in the fall V-show in classes of 10. I look forward to seeing his daughters freshen.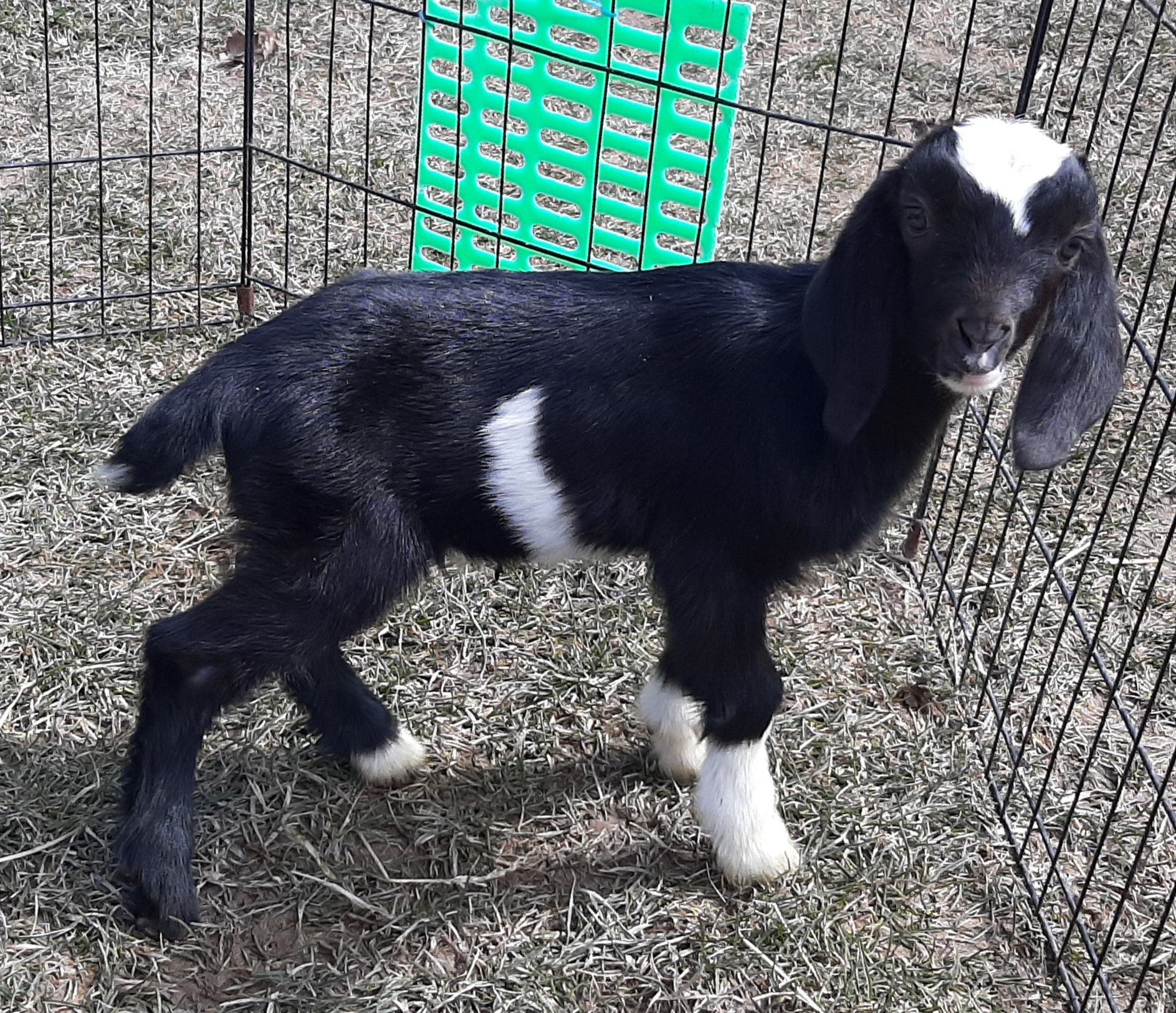 Below Count's dam's Udder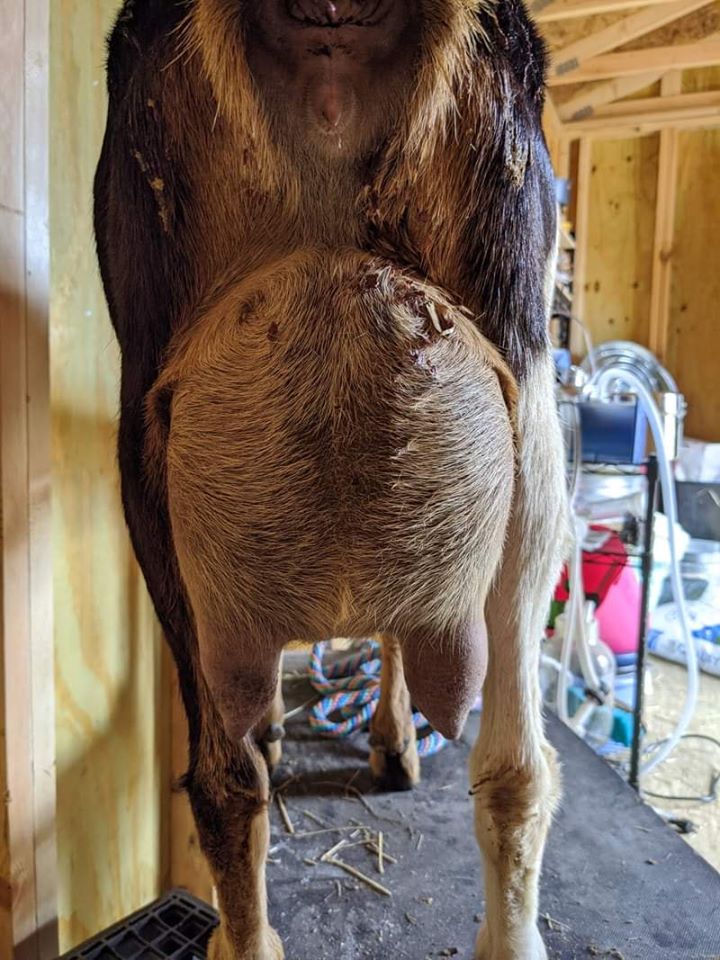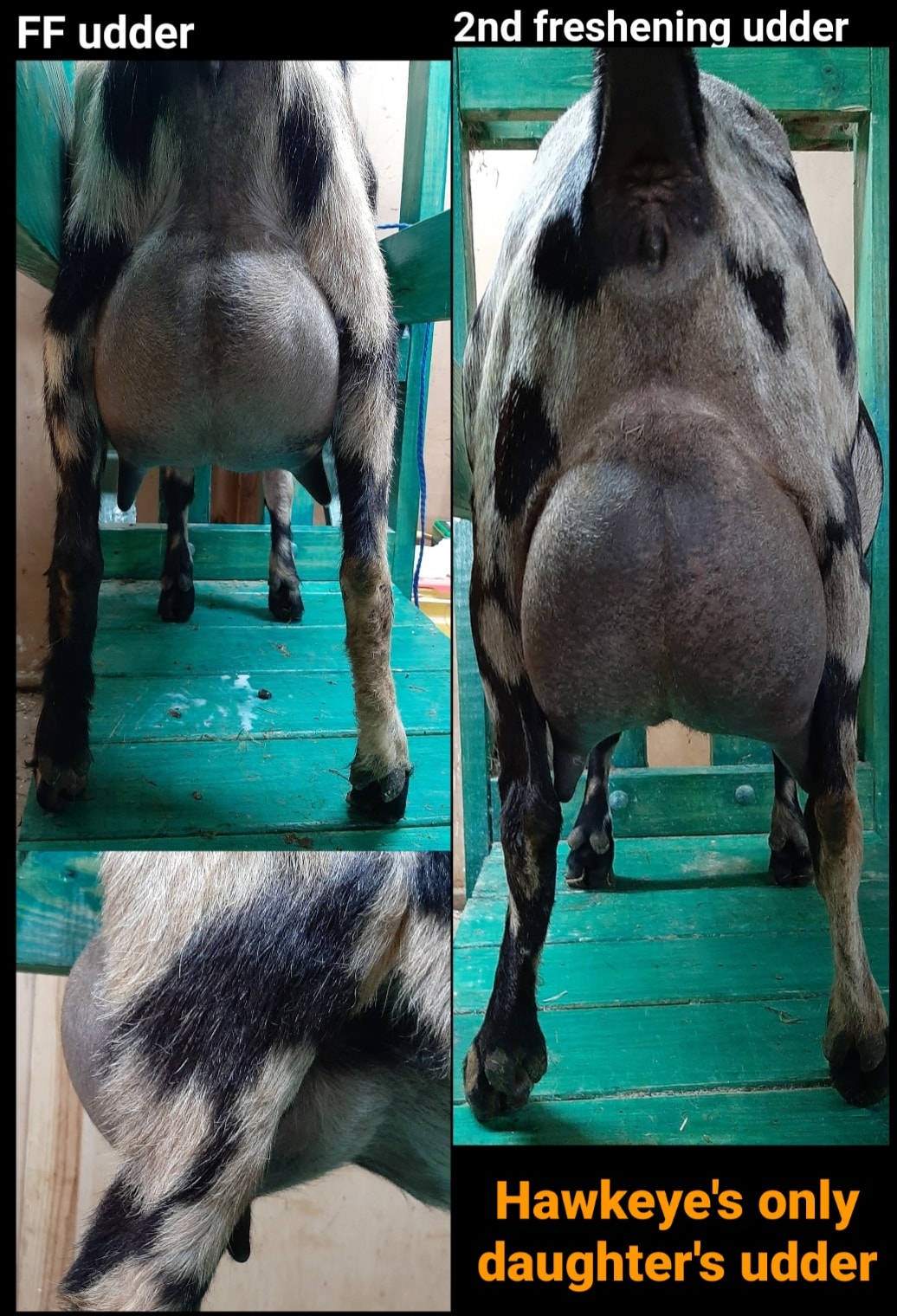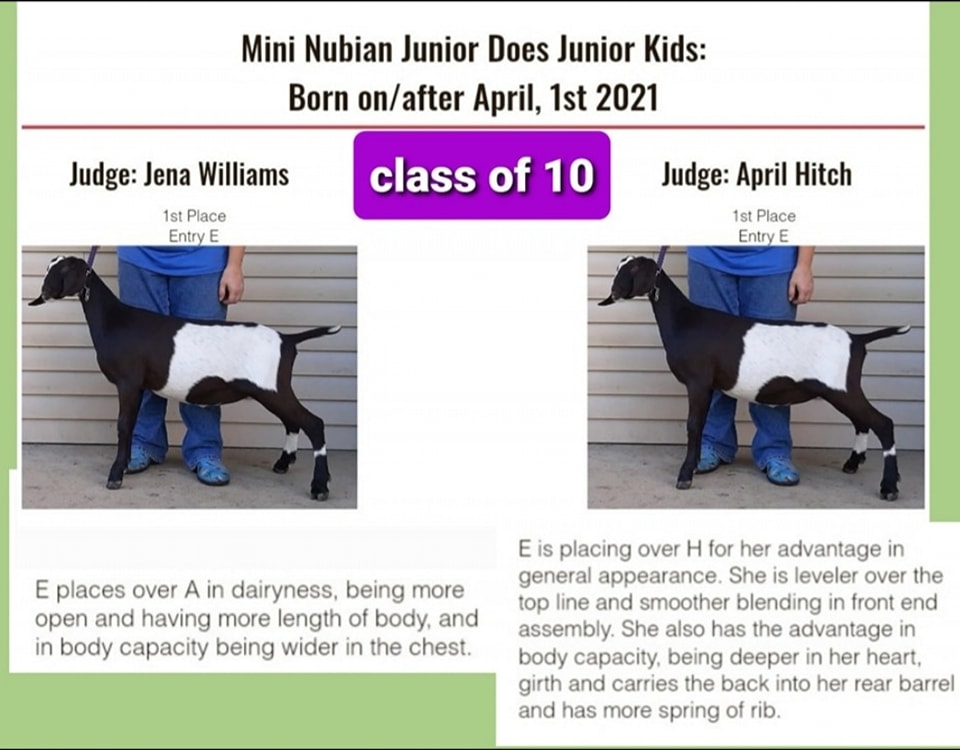 The "fine" print of picks/deposits placed.
List will be sent down the waiting list in order someone was placed on the list.
1. you have 24 hours to pick & send deposit or pass on currently available babies. Once you pick or pass (or 24 hours pass) I move on to the next person for the current list until I reach the end of the list.
2. Deposits are $100 and NONREFUNDABLE (sent via Paypal's friends & family option) and are to be sent within 24 hours of picking; remainder is due by pick up. You may move the deposit to another goat if life gets in the way- note it might be the following year if everyone is pending when you need to back out or I haven't finished going down the list.
3. once you pick your specific goat/goats- you drop below everyone else on the list if you decide to move your deposit to another goat. I don't know what the next round of kids will look like, sexes, etc in April- so if it is what you want place the deposit. If it's not quite what you want- you don't lose your place for the next round if you pass on this round (just on the current one as - here they are below).
4. I have the right to terminate a sale for any reason. If I terminate the sale- deposit is returned.
5. Goats will come dehorned- note- scurs can happen. I dehorn bucks by 1 week old to try to avoid this.
6. Goats will come with 2 CDT vaccines done (at 4 & 8 weeks) and have been treated for coccidia & intestinal worms as a precaution for their best health. Note- I DON'T use herbal wormers. I'm not saying they are bad- I just use medical ones.
7. Bucklings that I like (and would consider bringing back as a stud later) are are offered as intact males first (unless I feel it should be a wether due to dam's attachments, conformational dislike on my part, or another reason). If you are looking for a wether for a pet- please let me know. Wethers do not leave until 10 weeks old to wait for at least 9 weeks of age to band.
8. All kids must be paid in full and picked up by 10 weeks of age or there will be boarding fees added. Nor can they leave until they are 8 weeks old. Buyer is responsible for setting up transportation. If airliner shipping is needed I can help with setting that up (and may have crates available due to my own shipping in of goats).
9. All of our goats have been tested for CAE, CL, and Johnes yearly. All breeding age animals have been tested for Brucellosis at least once. Anyone too young to test yet has come from farm that tests if they weren't born here. All goats in our breeding program are G6S negative via testing or parentage traced to a test done via MDGA records by breeder they were bought from.
10. All kids are healthy when they leave here, if something pops up you will be notified beforehand as the kid needs to stay until it is ok. Please check over kids before you leave with them. If they are going on transport- a video of them before leaving will be taken as well and sent to you. (never had an issue- but you never know)
11. I reserve the right to add to this list as necessary with no notice as the need arises. (ie- if a snafu pops up I need a game plan statement for).